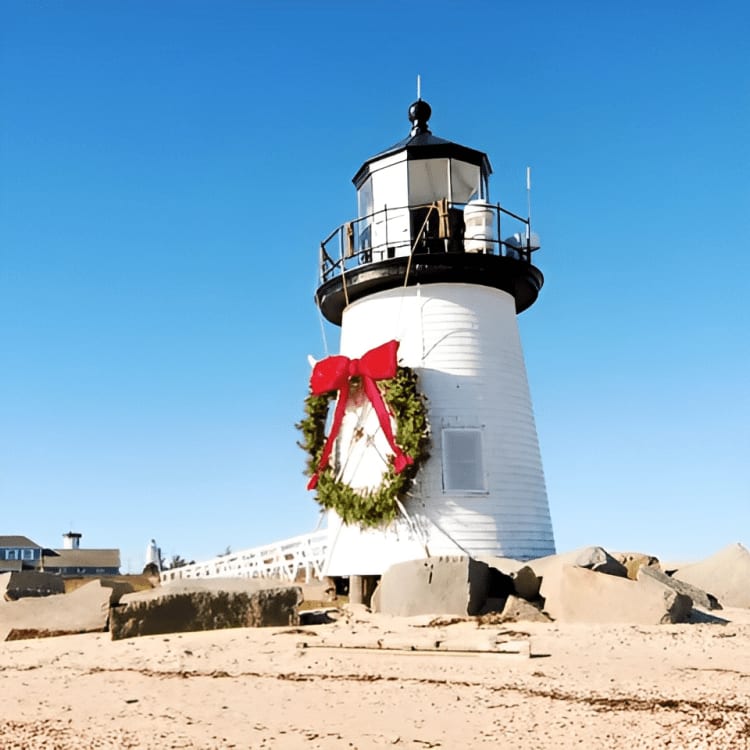 Nantucket is quite a charming town all year round but especially during the fall and holiday seasons. Beat the summer tourists and visit the island during what is known as the off-season on the island. Whether you visit during Thanksgiving, Hannukah, Christmas, New Year's, or other holidays, you won't want to miss out on the annual Nantucket events happening during the holiday season. Here are a few reasons why Nantucket is so special to visit in the colder months:
Nantucket Annual Holiday Events
Nantucket is magical during the holidays. The whole town comes together and celebrates the holiday season with several events. From Thanksgiving to New Year's, there are so many activities and events to attend that will put you in the holiday spirit. Experience a Turkey Plunge, Christmas Tree Lighting Ceremony, Stroll, live entertainment, carolers singing, decorated storefronts, an ugly sweater contest, and fun holiday shopping! The Nantucket Stroll weekend this year will be held from December 3rd to December 5th. Visiting Nantucket during the holidays with your family is a time you won't want to miss!
Specials, Sales, and Deals
The holiday season on Nantucket comes with many sales, deals, and nightly restaurant specials. Everyone is making their holiday shopping lists and gearing up for important sales and promotions they have their eye on. Take advantage of the local stores on the island with exquisite homemade gifts that everyone will love. Many boutiques will have sales going on in their stores, making the shopping experience exciting! Numerous restaurants continue to stay open during the fall and winter months. Enjoy seasonal specials during your time on the island and make sure to try the Nantucket Bay Scallops! Shopping and dining around the island are exceptional, especially when the town is decorated and festive.
Relax and De-stress
While the holiday season can be exciting, it can also be a stressful time. A weekend or longer visit to Nantucket is the perfect way to escape the stress, exhaustion, and struggles you may have during this time. Enjoy time away from home in a quaint yet full-of-life town to unwind and unplug. Book a cozy Nantucket rental cottage that will allow you to truly de-stress your mind and body. There are so many activities to do during your stay that will help you relax during the stressful season!
Quiet Beaches and Trails
Although the temperatures are cooler, there is no better time than the holiday months to explore Nantucket. From walking trails, hiking trails, and beautiful Nantucket beaches, you will be at peace with the stunning views. In the off-season, there are little to no crowds, more open space, and quiet time to explore the island. If you're an active hiker, walker, or beach go-er you will not be short of trails or beaches to visit. Bundle up, stay warm, and explore all that Nantucket has to offer during the fall and winter months. Don't forget to check out the festive lighthouses decorated for the holidays!
Interested in coming to Nantucket in the off-season? Reach out to me today!